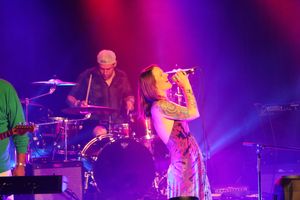 Madison Magazine
Isthmus Madison
Local clubgoers may recognize J for her vocal pyrotechnics with cover bands such as VideoStar or SuperTuesday. But in recent times her focus has been on performing solo (including a weekly cover song post on YouTube), writing her own songs, and starting work on her first album. A weekly residency also recently resumed as part of the patio music at Come Back In, and you can catch up on what Ernst is working on most Thursdays (excepting the third week most months). 
Rock/country/soul/folk/blues. Free. 
press release: While the weather allows, J is playing a solo acoustic show outside on the patio at Come Back In (508 E. Wilson St. Madison) every Thursday except for the third Thursday of the month. All the servers wear masks, all tables are spaced at least 6 feet apart across the outside of the venue and they do thorough cleaning of tables and chairs. If you are looking to get out but aren't sure where you can trust to go and still feel safe, come enjoy a cold one and some delicious food while hanging with me at Come Back In on a Thursday from 5-8!
Isthmus Music Calendar Section  April 2021